"The
Most Recommended

, The Most Affordable Ceramic Tile And Marble Setters In The Entire South Florida Is Just A Call Away: (561) 756-4910 (Direct Line To Me)".
Just
Text Message

your questions to my cellular:
(561) 756-4910

Adilson, Gesiel And Braga
(owners)
ACIS Tile Of Florida, Inc.
In the paragraphs below we will show you why you should choose ACIS Tile of Florida, Inc. to take care of your tile and marble project.
If you are looking to have your tiles set by professionals that will get the job done according to your needs and specifications, please contact us. How do we differ from other companies? When you hire ACIS Tile of Florida, Inc. you are dealing directly with the owner. On the other hand, when you hire a big tile company, chances are they will subcontract the work. And once we are the ones getting the job done, we make sure every single detail is taken care of. And... you don't need to pay the middle man (big savings). We recommend you to compare quality and prices and we will always be your wisest choice.
"The Quality Of The Work, You Can't Beat It!"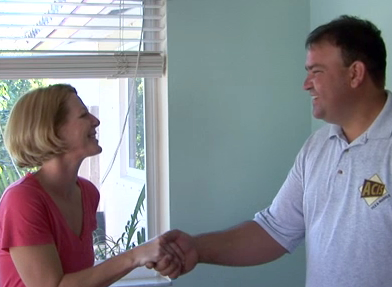 "I found Adilson on Google, and then we checked him on the Better Business Bureau. Adilson and his staff are hard working, professional, honest; they did a quality job and they got it done on time.
Everything's cleaned up and they did a terrific job, we're so happy with our floors, with our kitchen, with our bathroom, everything looks terrific.
He gave a lot of suggestions and he even took down our step and grated it so no one could fall down there. His price was great and he does take credit cards too.
The kitchen looks terrific, the granite countertops, the backsplash, we love the wood cabinets, the bar is all changed out. We love the handles. Everything looks terrific.
We would totally recommend you to all of our friends, anyone and even people we don't know and we would use you again for any other project. The quality of the work, you can't beat it! Thank you so much!"
Neil & Lauren Allen
Deerfield Beach, FL

Project Completed For Mrs. Lauren Allen
1,750 SQ FT of Mexican Tile throughout the entire house.
Also, remodeled the kitchen. Entire project took 2 weeks.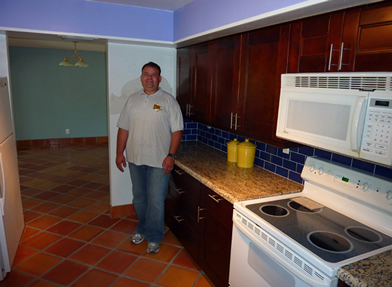 "It's Exactly The Way I Wanted"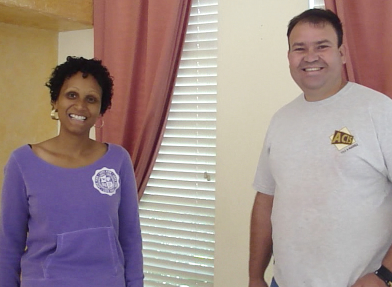 "I am so pleased. Everything is beautiful I couldn't have asked for more. He was reasonable on the price, and these guys were very clean and worked quickly.
Look at the results! (shows her new floor). The floor is clean, the grout lines are tiny. It's exactly the way I wanted and I'm very happy.
Not high not low (regarding to floor leveling) I would recommend you to everyone. I'm going to tell all of my friends in Coral Springs and Margate because I think he's actually the best tile setter.
Thank you! and Thank you for your business!"
Nichole Maurrase
Margate, FL

"
It's Unbelievable! I'm So Happy!"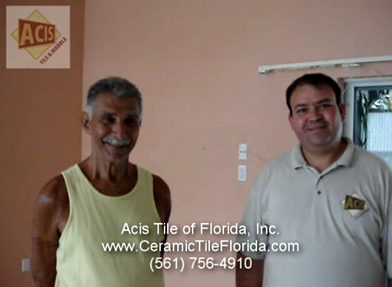 "I have no complaints. Everything is going perfect. You were ahead of schedule. It looks great. The price is very good. I'm very happy with the job.
I think Adilson is the best in this business. The price is better than anybody else. The best price I got. You Finished one week before the deadline.
It's unbelievable! I'm so happy! I'm happy with the whole job. He did nice, clean, fast, neat...Everything is beautiful! I recommend you to anybody."
Mr. George Ranallo
Wellington, FL

Project Completed For Mr. George Ranallo
24x24 Marble - Beautiful diagonal pattern installation. 2,500 Sq Ft Project.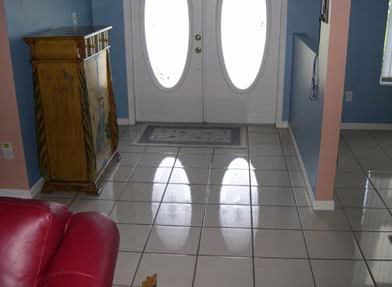 BEFORE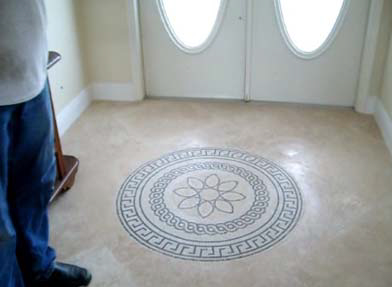 AFTER

Project For Mr. George Ranallo
24x24 Marble - Beautiful diagonal pattern installation. 2,500 Sq Ft Project.

BEFORE (Slippery white ceramic)


AFTER (Gorgeous Safe Travertine)


AFTER
Project Completed For Mr. George Ranallo
24x24 Marble - Beautiful diagonal pattern installation. 2,500 Sq Ft Project.

BEFORE (Huge Ugly Grout Line -- Slippery And Dangerous)

AFTER (Sophisticated Top Quality Travertine)

Mrs. Marta Cerny - Real Estate Professional
Cell: (561) 289-6468
Fax: (561) 394-3464 We've installed hundreds and hundreds of SQ FT of ceramic tile for Mrs. Martha along 6 years.
 

What We Do

We set:

We also float and waterproof all kind of surfaces such as floors, walls, ceilings, counter tops & backsplash.

ACIS Tile & Marble is highly experienced in complete bathroom remodeling.

For 10 years we've doing nothing but working with ceramic tile related jobs. As part of our complete package we have a vast experience in installation of:

| | |
| --- | --- |
| | sheet rock |
| | hardiebacker |
| | durock (cement board) |
| | glass block |
| | shower pan |
| | shower doors |

Also baseboard & laminate flooring and travertine-Slate-Natural Stone. The list goes on and on: entryways, patios, store fronts, hallways or lobbies, fire places. You name it, we tile it. Custom residential and commercial designs.

Don't forget that our specialty is in complete Bathroom Remodeling. Showers, including shower pan installation, glass blocks and much more. Pick your dream bathroom from your favorite magazine and we will build it for you for a fraction of the cost with the precision a master.

"Perfect Job. Flawless!"

"I really enjoyed working with you, the job looks great. I would definitely recommend you to my family and my friends. I didn't have to supervise my friend here; the job came out perfect.

I would definitely recommend him to anyone that comes across the need of a tile person. A job of 1,500 SQ FT took about less than 2 weeks to do or a little bit more than one week.

Perfect job. Flawless! Thank you! I'm very happy."

Bill Manzie
Plantation, FL


Quality

The number one concern you should have when selecting a tile setter is quality. Tile setting demands time, dedication and commitment to achieve a great result. You can have that with us. You, for sure will have a great feeling when we leave your home and your project is complete. We receive tons of Thank You notes all the time.

Perfection during installation

During the process of installation is essential that the surface is kept absolutely clean at all times. Why? Because if the surface has particles and debris the adherence can be compromised and the quality of the setting be diminished.

The Deal

If you haven't purchased your tile I can save you money by purchasing tile for you from all major tile distributors at builder's discounts. The selections are virtually unlimited and you can shop at some of the areas largest showrooms. Remember, our team can lay ceramic, travertine, slate, marble, or natural stone on floors, showers, back splashes, and counter tops.

If you are reading this message chances are you are looking to choose your next ceramic tile installer/setter. The options are endless. Infinite number of tile installers on the internet. We know it's hard for you to choose one installer amongst so many. Well, let me present more reasons why ACIS Tile and Marble should be the company that will earn your choice.

Experience

A tile installation craft is something that can only be developed over time. We cannot be really good in just a few months. In order to become a master in the art of tile setting, years of practice are necessary. We've been setting tile, marble since 2000. We've installed hundreds of thousands of square feet. In each tile that we install we try reach absolute perfection.
More than Solid References
Highly reputable commercial and residential clients publicly acknowledge the excellence of our services. When you hire us, you can rest assured you are hiring a friend. Someone that will not only be very strict about quality but also will treat you as a friend. For us at ACIS Corp, that's so important.
Go the Extra Mile
A tiling project may be very demanding. Often, it's not a simple matter of tile installation. Sometimes we will need to work closely with you. We understand that. And that's part of how we operate our business. We will be there for you every step of the way. You can count on it.
Look at what one customer has to say about us going the extra mile:
A work of art and a pleasure to see...
That's how we feel when we come home and step on Mr. Adilson R. Andrade's work. He did the floor of our newly bought Florida home, transforming it from dull carpeting into a
bright tile and wood welcoming

.

Mr. Andrade

went beyond the call of duty

helping my wife and I choose the right kind of tiles and wood flooring, going to several stores until we had the correct amount of the right color for the existing surface, he removed carpets, broke old tiles, dragged kitchen machines to retile under them and much more.

His work is

professional and reliable

and he did it totally unsupervised because we were still living in New Jersey at the time and it was a pleasure to walk into our new home and find this warm

welcome floor

.

We

strongly recommend Mr. Andrade's work to anyone who is demanding of artistry and competence

.

Selma and Sam Elyachar
Coconut Creek Florida
(954) 366-15**
(201) 563-47**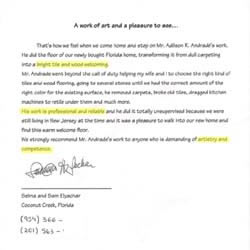 Click on the original picture to enlarge
Insurance
ACIS Tile of Florida, Inc. is insured. This is crucial. It's essential that a tile setter carry insurance. Since 2000 working in South Florida, we've seen and heard it all. Want peace of mind? Make sure your next tile setter is insured.
Flexibility
We understand that you may need to get us to do the work on a special time, evening, weekend... Just contact us and we will arrange to meet with you and execute your project at the time of your convenience. We are very very flexible.
Wow Prices!
When it's time for you to purchase the material for your next home remodeling, please keep us in mind. Once we purchase in high volume, we get substantial discount. It's highly recommended that you take advantage of that.
Punctuality
We are always punctual. If you say 8:00 AM, that's when we will be there. We will keep you informed of project development every step of the way either by phone or email.
"They did a good job, they were on time and they did an excellent work!
Adilson:
- Hi, I'm the owner of Acis Tile of Florida and I'm here With Mr. Yacoub.
- I did a job in here around 1000SQ FT and one
medallion
and he liked the job. Also we used a grout line of 1/16.

- Did you like the job?

Mr. Yacoub:
- I like the job and
I recommend Adilson, they did a good job

, they were on time and they did an excellent work!

Adilson:
- And about the price, it was good, did you like the price?

Mr. Yacoub:
- I shopped around a lot and was a great price!

Adilson:
- What about the time? Did I do like I told you?

Mr. Yacoub:
- They were on time, and you know they did a lot of work, they came and did a great job, spent a lot of time in, came on time and spent full days, they did a good job...they are fast.

Adilson:
- Thank you!


Recommendation
Recommendation: If you are looking to have a brick pavers project complete here in South Florida, I personally recommend my friend Nilson Ricardo, the owner of N. Ricardo's Brick Pavers, Inc. His website for a brick pavers project is: http://www.BrickPaversFlorida.com
Adilson, Gesiel And Braga
(owners)
ACIS Tile Of Florida, Inc.